Would You Spend $10 To Pocket $5,000...
Over and Over Again
Part-Time or Full-Time,
Solo or Using Outsourcers or Employees
Yep, $10 -

No borrowing,

No qualifying,

No credit and
Less risk than crossing the street at a red light.
Tim Randle here. Give me three minutes to explain and you can judge if this is a perfect fit for you.
Many of the make-it-big-with-Real-Estate-Investing strategies are adversarial and/or stressful.
With foreclosures and short sales dealing with Lenders can be like war. Even though you're helping them solve a problem, they treat you like you're the enemy.
With rehabs and holds there's a lot of stress. You have your mortgage, property taxes and other payments due like clockwork... even if the rehab isn't progressing like clockwork, or, you don't have a paying tenant. Payments and vacant houses. Tenants and toilets.

These are the kind of complaints I hear from Investors all the time.

What if there was a Real Estate Investing strategy that wasn't adversarial, wasn't stressful. In fact was plain EASY.

I hear the screams now...
If it was easy, everybody would do it.
Not exactly, let's be more specific...
If it was easy AND EVERYBODY KNEW ABOUT IT, everybody would do it.

Want to Know About The "Easy It"?
The "easy it" isn't a new strategy, but it's a less 'sexy', overlooked and under-appreciated strategy.

You don't need to be a hard-nosed negotiator to work the "easy it" strategy. No need to toss and turn and lose sleep worrying about bills you have to pay that are bigger than rent or profits coming in to offset them. No worrying about over-paying for a property or about market declines. No ownership liability or responsibility. No maintenance issues. No tenant calls during dinner. No worry over repairs. No need to have good credit. No loans to qualify for, or hard money, or transactional funding, or private money, or IRA money, or kids college fund money.

This strategy involves a little bit of easy marketing (you can outsource that if you want) and a little match-making between two very interested parties. It flows WITH current market conditions, not against them.

I've put together hard core how-to interviews with three experts who have tried and abandoned other strategies because this strategy works best for them. It's easy. It's stress free. And they're not shouldering ownership or market conditions risks.

In fact these three individuals shared two common characteristics that quite honestly, I don't see much of in the Real Estate Investing community...

# 1. They're relaxed and emphasized they had no need for a 'worry closet', nothing about their business kept them up at night.

# 2. They work part-time by choice, earning enough to live well and enjoy the lifestyle of full-time income from part-time effort.

Enough already with the tease -
What's The "Easy It"?
Lease Options. Now I know option contracts are being used with a number of different strategies these days. The core characteristic about an option is you get the benefit of CONTROL without the responsibility of ownership. Using the Lease Option strategy you'll never have to worry about ownership.

In the market today there are so many homeowners that want to sell, but can't compete with all the over-supply of short sales and foreclosures.
There's also plenty of wanna-be buyers, but they can't meet current lending requirements.
This market doesn't work with the traditional Realtor model.
But it works splendidly with the Lease Option model.
And sellers welcome this solution. It gets them a price they're looking for. Takes the burden of mortgage payments off their shoulder. A makes-sense solution that you don't have to 'sell' and no one else is banging down their door and talking about.

Imagine you're an average seller in this market. Your property has been listed and nobody qualified is interested. That's a common situation these days.

Here are your choices:
Offer #1

:

Rent it out and hope the market improves enough to sell it... eventually.

Offer #2

:

Sell it for 70 cents or less on the dollar to an investor... if you have enough equity and can stomach it.

Offer #3

:

Lease Option it. Get a full market value selling price. Collect market or better rent during the lease period to cover your mortgage.
Offer #3 gets a lot of attention. In fact these days - as our featured experts are experiencing - as many as 50% of sellers express interest in Offer #3 when they hear it.

You put the deal together, collect $3,000-5,000... deal after deal.

Lease Optioning can be your exclusive strategy, or it can be the strategy you turn to when other strategies won't work. $5,000 or a throw away lead. Easy choice.

Our experts are making good money with Lease Options. You can too. What would your life be like in 3 months, 6 months if you knew what they know?

Grab these three how-to interviews and...
Pull up an ear for this easy to learn, easy to do,
easy to profit from strategy...
Lease Option Expert #1: Fired Sales Guy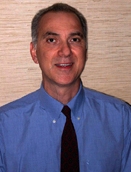 When Michael Carbonare was fired from his sales job (because he was so bad at it) he jumped into Real Estate Investing... which immediately beat him up and stole his lunch money. Until he stumbled on an article about Lease Options. It all came together in his head and he quickly learned what he needed to make a business out of it.

Now he's happy family guy doing Lease Options part-time and actively enjoying family time. He also writes and speaks nationally about Lease Options.


Michael will tell you with Lease Options you really don't have to SELL, and...
4 different Lease Option methods and when each one is one is best used
When, why and to whom you can assign your Lease Option
How long should the Option period be
The 5 ways to make money from Lease Options
The top (and additional) place to easily scoop all the seller leads you need (and more) for FREE
3 step lead qualification process - done from the comfort of your chair - that takes less than 10 minutes
Why make offers sight unseen and how to protect yourself. This saves hours and hours of time.
When to use appraisers and inspectors, when not to
3 simple ways to find tenant-buyers for FREE
Serious or lookie-loo... do this so they spend their time deciding and not yours
The word for word clause that frees you and the seller from being responsible for repairs
The two clauses that ensure you're not at financial risk

"What I really like about these interviews is that Tim breaks down the entire process, which allows me, with no experience in lease options, to understand exactly how the process works. Having these three interviews allows three different effective ways of finding potential buyers and sellers. It's also a great way to see how creative investing works when you combine different strategies with lease options. I highly recommend listening to these interviews! Well worth it!"

Randy Camat
West Covina, CA


"I thought that this series was excellent and highly recommend it to anyone looking to get involved with Lease Options, or even to the experienced investor. I am a beginning investor and I am still fairly new to Lease Options, but I have completed 1 Sandwich Lease even before listening to this interview series. Each interview yielded different ideas that I had not thought about before and have since been able to utilize in my business: from different ways to find leads and market my services, to finding better qualified tenant/buyers, and even ways to turn a "No" into a "Yes" by being able to give the sellers everything they are looking for.

As a beginner, I want to stay away from working with Real Estate agents as I want to talk directly to the homeowners and not deal with a middle person. However, from the interview with Wendy I learned a way that you can partner with a Real Estate agent instead of just bypassing them. This opens a lot more leads, especially when you already have good relationships with several real estate agents. With more than just a simple referral, you can learn just how to bring real estate agents to you with their sellers that meet your requirements. How, they still get to earn their commissions!

I am also having trouble finding good buyers that have enough money for down payments, but truly want to be homeowners. I learned some creative ways to network with people and find the buyers that are already trying to buy a home but can't get approved for financing. They already have the money and the desire. Now I can help those people find the homes they are looking for.

I was also having a poor first contact result. I would call the homeowners and leave a lot of voice mails and never hear anything back. The homeowners I did talk to would take a lot of my time and then turn out to not be truly motivated. With some of the different ways to contact homeowners I have been able to cut down on the time that I have spent on the phone with unmotivated sellers. This is leaving more free time to spend on the things that make me money: talking to motivated sellers who are open to what I have to offer and making offers! There is even more that I learned but can't fit into such a short review. Get this for yourself. You won't be sorry!"

Mike Keen
St. Louis, MO


"The Lease Option Interview series is a great place to start getting information if you're new to Real Estate Investing and want to see if Lease Options is right for you. You basically get an hour long interview with three of top Lease Option practitioners in the industry, and they don't hold anything back.

Tim Randle does a great job asking all the questions that you would want to ask if you were able to take one of these people out to lunch.

Michael Carbonare - specializes in Cooperative Assignments (CA) which is basically just quickly assigning the contract to a tenant buyer for fee and getting in and out of the deal. His theory is that by giving the seller what they want, it is easier to get more deals to flip.

Wendy Patton - specializes in Sandwich Lease Options (SLO). She likes to get deals with more meat in the middle by making money in three places, option fee, 200-400 monthly cash flow, and a nice 15-20k on the back end of the deal. She sets Tenant / Buyers up with Credit Repair programs and a Mortgage Broker to increase their chances of being able to buy.

Joe McCall specializes in what he calls Wholesale Lease Options, which is similar to Michael Carbonare's approach. The big difference with Joe, is Joe is all about outsourcing as much of the business as possible and having it run on autopilot.

It was great to hear three different yet successful approaches to the Lease Option business."

Jarrod Feran
New Orleans, LA

Lease Option Expert #2: Builder and Broker Chooses Lease Options

Wendy Patton has been in the Real Estate business over 24 years. She's built, she's brokered and she's Invested using numerous different strategies doing over 650 deals. Her favorite strategy - and the one she works now - is Lease Options.

And she does this strategy frequently with the assistance of Realtors on one or both sides of the transaction.


Listen and an learn Wendy's...
Quick formula to determine the best offer price
Best seller referral source for the nicest homes
Best seller lead source with as high as a 50% response rate
If the seller doesn't have this - walk away
Two specific clauses that make sure you're not under time or money pressure
Lease agreement with the seller should include these, but with the tenant-buyer, it's different
How to structure the commission if a Real Estate Agent is involved
Best property price range to target
Make sure the tenant-buyers agree to...
How to structure the money flow to protect the property title
Why get a property inspection
The least complicated business structure
Smoothest way to do a simultaneous close

"I want to generate cash fairly quickly, with little money, and no credit requirements. After listening to the following experts on options, I believe this will work for me. It was really great to get three different perspectives on options and each speaker gave different information. Here is what I learned from:


Michael Carbonare describes the three profit centers in a sandwich lease and three exit strategies He explains why he prefers the cooperative assignment and why it is easier for newbies.

He goes on to tell how he markets to homeowners, overcomes their resistance to working with an investor, how he decreases the numbers of no shows, and even makes offers without first inspecting the home. If he does a long term lease he will order an inspection. He also recommends recording a memo of option. He doesn't do either of these for short term as that would be the end buyer's responsibility.

Michael markets for buyers with lawn signs and puts some directional signs around the neighborhood.

If you get a lot of response, but no takers, you may have to adjust the price, terms, or rent. If the owner won't budge use your cancellation clause, hand back the keys and say, "I'm sorry, I tried" and move to the next deal.

Wendy Patton doesn't start making payments until she has a tenant buyer.

Wendy's favorite way to find sellers is working with Realtors. They have the prettiest houses and have 80% to 90% of the listings. Her second favorite is newspapers or Craigslist in the rent section. These people have already tried to sell and couldn't. Usually 30%-50% are willing to do an option. She tells you what she is looking for in order to do an option.

Wendy explains which clauses to have in the buyer's contract and which ones to have in the seller's contract. How she is flexible with the buyer to encourage them to work with her, and how she makes sure real estate agents get their commission.

Right now finding buyers is easy, but when it is a seller's market she goes to Realtors with a letter called "$500 or a piece of garbage". She also mentions other professionals who can give you leads

She puts tenant buyers in touch with credit repair companies. The longer a tenant is in the property, the less likely they are to buy. She keeps in touch to keep the tenants on track. and lets the seller know the status

Wendy pays the mortgage even if she has to cut a separate check to the seller.

Flipping lease options is getting a property under option contract and then assigning it to a tenant buyer and you collect the option deposit as your fee. Joe McCall usually gets 2-3% option deposit. Some he shares the option deposit with the owner and some he keeps it all .

He finds sellers by direct mail to absentee owners and expired listings Using Click2Mail and yellow postcards. It costs $.40 -$.45 a post card. He also uses craigslist and FSBO sights. He has a virtual assistant from ODesk do that for $2 an hour. Out of 30 - 40 calls he'll get 5 - 10 potential deals. He uses flexible terms and the seller can cancel if he sells or gets a tenant. This probably happens 20%-30% of the time.

He has a contract on his website sellers can fill out. He doesn't believe in meeting with the sellers or inspecting their home. He can do this by using DocuSign where buyers and sellers can sign documents electronically He has the sellers show the home.

Joe always verifies that the seller is current on their mortgage and he does a quick title search to make sure the property is not over-encumbered.- "

Peggy Heintz
Elizabeth, CO


"I purchased this product about how to do lease options. I have been having a hard time lately finding sellers and thought this might be just what i needed to get back on track. Boy was it. After listening to all 3 of the guests speak i was able to get right back on track.

I was able to change up the way i talk to possible sellers enough that I already am having more leads respond back to my ads and messages I leave. Within one week of hearing these 3 speakers I am back on the road to financial freedom. Listening to all 3 speakers gives you different ways to look at each situation and make up your own mind how you think it should be done. Sometimes all you need is a little tweak and you are back in business. Thanks again." "

Jim Griffin
Libertyville, IL


"I have just read through the transcript provided with the interview with Michael Carbonare. I like having the transcripts available so I can breeze through the information, save it so I can highlight anything special I want to remember and get the information, get to the point in less time, without having to take notes :)

Mike lays it out clearly and simply, relating the different options we have when entering into a lease option, some that I wasn't aware of. He targets his talk with the new investor in mind, with little or no money to spend, which I found very helpful in my situation. I felt the process was well explained from beginning to end in a way that I can implement myself." "

Gloria Stafford
Arvada, CO

Lease Option Expert #3: Wholesale Flipper Turned Optioner

Joe McCall was a tried and true wholesale flipper. Until he got to know Lease Options. His cash per deal is about the same or better, but his much lower marketing costs make his profit per deal 20% higher... and it's easier.

Check out his innovative automation techniques that allow you to do this business on a part-time basis.


Joe is one of the nations leading experts on Lease Options. Listen in and learn...
How to outsource your marketing for $2/hour
These characteristics make the best sellers
Seller lead... find this out first
The simple, cut-to-the-chase question to ask that quickly separates the time wasters from the real deals
How to get the seller to go online and fill out the lease option contract so you don't have to
How to work - from anywhere - paperlessly
Reserve this right for yourself
Why you should require all your tenant-buyers to do this and how to turn that into a selling point
Top 3 ways to get buyer leads
Make sure tenant-buyer gets this from the seller
Always check for...
When to use an escrow company

"I am still a new real estate investor (I have only been doing it for 18 months now) however during this short time I have been able to purchase 19 properties at a rate of around one a month. In our market the best way I have found to make money is to sell my homes lease / option. However, since I'm making a slow dime instead of a quick nickle my cash reserves are completely empty at this moment and it is almost impossible for me to qualify for a bank loan since I can't come up with the necessary down payment of 20%. I really don't want to slow down purchasing real estate but without cash on hand I cannot continue purchasing homes the way I have over the past 18 months.

After listening to the lease / option interviews I realized that my best bet to continue with my real estate career (especially without much cash on hand) is to use options. By negotiating low cost options I can control real estate without actually owning it and still profit from the cashflow it throws off and any appreciation it might gain before I exercise the option to purchase the property.

When Joe McCall described the idea of wholesaling lease / options on properties without equity that just gave me a new investing technique that I know can be used in my area of the country. By wholesaling lease / option contracts to individuals looking to purchase a property lease / option I can make a quick $3,000 to $5,000 with no risk. By wholesaling just a couple lease / option contracts this will give me the money that I can use as a down payment for rental properties that I plan to own long term."

Dustin Michaels
Springfield, IL


"I recently purchased your Lease Options course with Wendy Patton, Joe McCall, and Michael Carbonare. Prior to purchasing this course I had very little knowledge of what lease options were. This course was jam packed with juicy nuggets of information on how to find motivated sellers, locate tenant buyers, as well scripts for calling and meeting with both buyers and sellers. As a beginning investor I found this information to be extremely useful and relevant to what I am hoping to accomplish as an investor.

Thank you Wendy, Joe, & Michael for providing me with the confidence to go out there and start approaching buyers and sellers to do lease options. I am so grateful to be a member of REICLUB Pro. You provide your members with a myriad of resources, articles, webinars, and access to the professionals who are currently out there doing these deals on a large scale. Most importantly, I feel as though I am part of a large community of investors (seasoned and beginners) who fully support one another. I love it!"

Sonia Williams
San Pedro, CA

These strategy and tactic-dense interviews from experts with solid track records will come to you in a 3-CD set... listen from your computer, your car, your portable mp3 player or wherever.

If you haven't heard my interviews before, let me assure you, they're not the typical lite-on-content, heavy-on-pitch. In fact, there's no pitch at all. They're pause and rewind, detail-dense, real-world lessons.

I carefully prepare for each interview. I probe deep on the important aspects and keep each guest focused and on track. The quality of the content is as good or better than private seminars.

But it won't cost you seminar prices.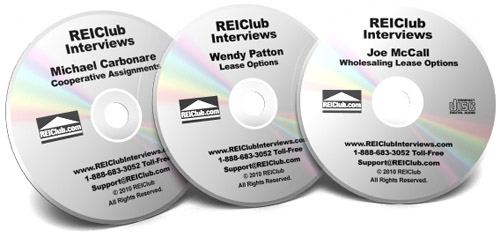 "Lease Option Interviews"
100% Ironclad Money Back Guarantee

I"m so confident that you will love this powerful real estate investing information that I"m willing to bear 100% of the risk for the next 30 days. That means that you can get in now plus get all the bonuses RISK FREE and give it a shot for 30 days. If you aren"t happy for any reason simply let us know and I"ll immediately cancel your order and I"ll even let you keep all the bonuses as my way of saying thank you!




But Wait! Let Me Make This Even Easier For You!
Order Right Now And You Receive All These Extra Bonuses...
Yours Absolutely Free!
Complete Transcripts of All Interviews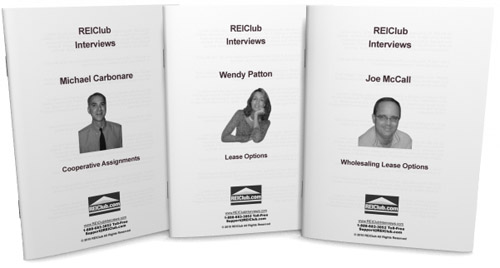 Here's a secret that's guaranteed to give you the mind of a Real Estate genius:

Some people learn best with audio. That's no secret.
Some learn best visually. That's no secret.
But the most powerful way to make something second nature, to fully integrate powerful, profit-making ideas into your brain, so you can recall them on command, is to use multiple senses to digest the information.

Was there a part that wasn't quite clear...
What to jump to a part for quick review...

You'll have the transcripts to read along with, scan and skip through, study and markup with notes to easily review when you need that clarification or re-introduction.

THAT'S why I went through the extra time and expense of having each interview professionally transcribed.
And...
Interview Nuggets
Focus, they say, is like a laser beam. Each interview has a handful of critical points. I've pulled them out for you and had them printed separately so you can easily grasp and review them at any time.

These little cheat sheets reveal the most important focus points from each expert. Read over them before listening to the interview to prepare your attention and again after the interview to cement those important points in your memory.
And...
FREE Trial Membership in REIClub Pro
You get complete access for one full month to the deepest - and growing - Real Estate Investing library available today. REIClub Pro has over 140 multi-media trainings available on every Real Estate Investment topic imaginable. Plus a full array of forms and resources to guide you through business building and real estate transactions.

I pay your dues for this state-of-the-art wealth building University the first month where you can get a professional education that could mean tens of thousands of dollars for your business!

And if you find out you can't live without it - as so many others feel - you'll simply invest a modest $39.95 per month to keep it coming non-stop. New content is added monthly.

The first month is on me. You can cancel any time, without obligation. But I can't say that many do - this is one of the best values in Real Estate Investing available today!
And...
The Richest Man In Babylon eBook
It's easy to be dazzled by the glitter of the latest shiny new object. This humble book teaches financial wisdom in easy to digest parables. The kind of lessons that can lead you to build true life-changing wealth rather than endlessly chasing instant rich illusions.

What are you waiting for? Grab these Lease Option expert interviews now and be delighted to see how easy - and stress and risk free - it can be to build your wealth and realize your dream lifestyle.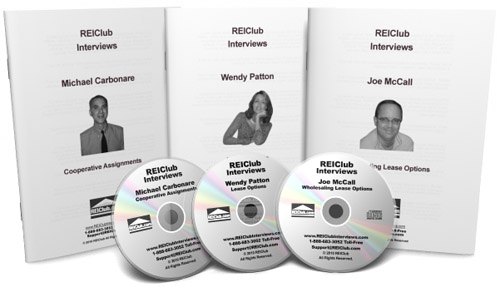 "Lease Option Interviews"
Your neighbors will never know you're a next-door (virtual) empire builder.

Good Investing,




P.S. We reserve the right to change or remove this offer at any time. Some 3 CD sets have sold previously at $97. Please note this is the lowest price at which this offer has ever been available and we make no promises this price will be available the next time you return.

"When I was offered the opportunity to hear three of the best investors in Lease Optioning, I jumped on it. This was one strategy I wanted to use. When I got my package I started listening right away, I wanted to learn as much as I could. I was not disappointed.

I learned the three different types of lease options, sandwich, assignment and cooperative. Each of the investors spoke very well and it was easy to understand what they were saying. They included their own experiences and how they have succeeded with lease options. The cooperative lease option is the one I am planning on getting more information on and using.

Thank you REIClub for a great product. I recommend it."

Mary Stead


"My name is Manny and I'm just starting out in my real estate investing career. As such, I am focusing on my education. One of the absolute best resources I have found is the REIClub. I am learning so much. Recently, I purchased 2 sets of interviews; one on wholesaling, and one on lease-options. I found both extremely valuable and informative. Even the one interview that I didn't particularly care for, did have, at least one piece of information that I was able to use and wasn't repeated elsewhere. Bottom line; my purchases were well worth the price. Very happy to have discovered REIClub! Look forward to more great educational and networking opportunities."

Manny Alves
Norwalk, CT